Procter contracts acoustic fence panels provide a noise reduction sound proof fencing system.
Acoustic fencing is the most effective solution in reducing excessive and unwanted noise across many applications, ranging from residential, education and transport to commercial and industrial.
Acoustic fencing works by creating an adequate acoustic barrier to disturb and repel any unwanted sound. This can have an extreme effect, noticeably noise reduction levels and minimising any previous disruption.
Aside from effective noise management, acoustic fence panels offer greater levels of privacy and are more aesthetically pleasing than industrial-styled security fencing. Acoustic fencing in a school environment not only creates an acoustic barrier to boost pupil learning by creating a calmer working environment, it can also improve community relations and reduce complaints from local residents.
Procter Contracts are a family-owned business with over 100 years' experience in expertly designing, manufacturing and installing fencing and gates throughout the UK.  Today's full-service offering extends from site surveys and technical consultations, through to installation and maintenance contracts.
We offer a comprehensive range of products from simple boundary fencing to complex perimeter security fencing, with work guaranteed for 12 months and selected products having extended warranties of up to 25 years.
Whether the requirement is for acoustic fence panels, sound proof fencing or gates that need to fit within a particularly confined site, or a design with an aesthetic to complement the existing architecture or corporate branding, Procter's design team will develop concepts and detailed designs that meet the brief.
Key Features
Acoustic fence panels
Significant noise reduction of up to 32dB
25 Year guarantee
Aesthetically pleasing
Made in the UK from sustainable British material
Environmentally friendly
Fully compliant with Highways Agency Standards
Provides security for residential and commercial sites
Can be installed in heights of up to 12m
More Info
An Introduction to Sound Proof Fencing
There is mounting evidence that noise pollution can have serious impacts on the health and wellbeing of those living close to excessive noise. In fact, the World Health Organisation suggest traffic noise alone is harmful to the health of almost every third person in Europe, with one in five regularly exposed to sound levels at night that could significantly damage their health.
As this issue of noise pollution becomes an increasingly prominent problem in densely populated modern environments, acoustic sound barriers are seen and been proven to be the most effective solution to reduce excessive and unwanted noise.
Our acoustic fence panels are suitable for a range of applications, ranging from residential, schools and transport to sports venues, commercial and industrial.
The systems are both flexible and bespoke, meaning they can be adapted to design requirements and supplied in varying heights and widths to suit the project requirements. Furthermore, they are suitable for uneven or sloping ground.
Most importantly, our acoustic fencing and barriers provide up to 32 Db attenuation. They are specially designed to satisfy stringent highway performance standards and are tested and compliant with BS EN 1794-1 and BS EN 1794-2.
Our experienced installation teams have worked throughout the UK on a wide range of acoustic projects.
A recently completed acoustic barrier in Southampton is believed to be one of the, if not the tallest fence in the UK. The 12m high timber fencing will not only reduce environmental noise but is the ideal solution when it comes to sustainability and security.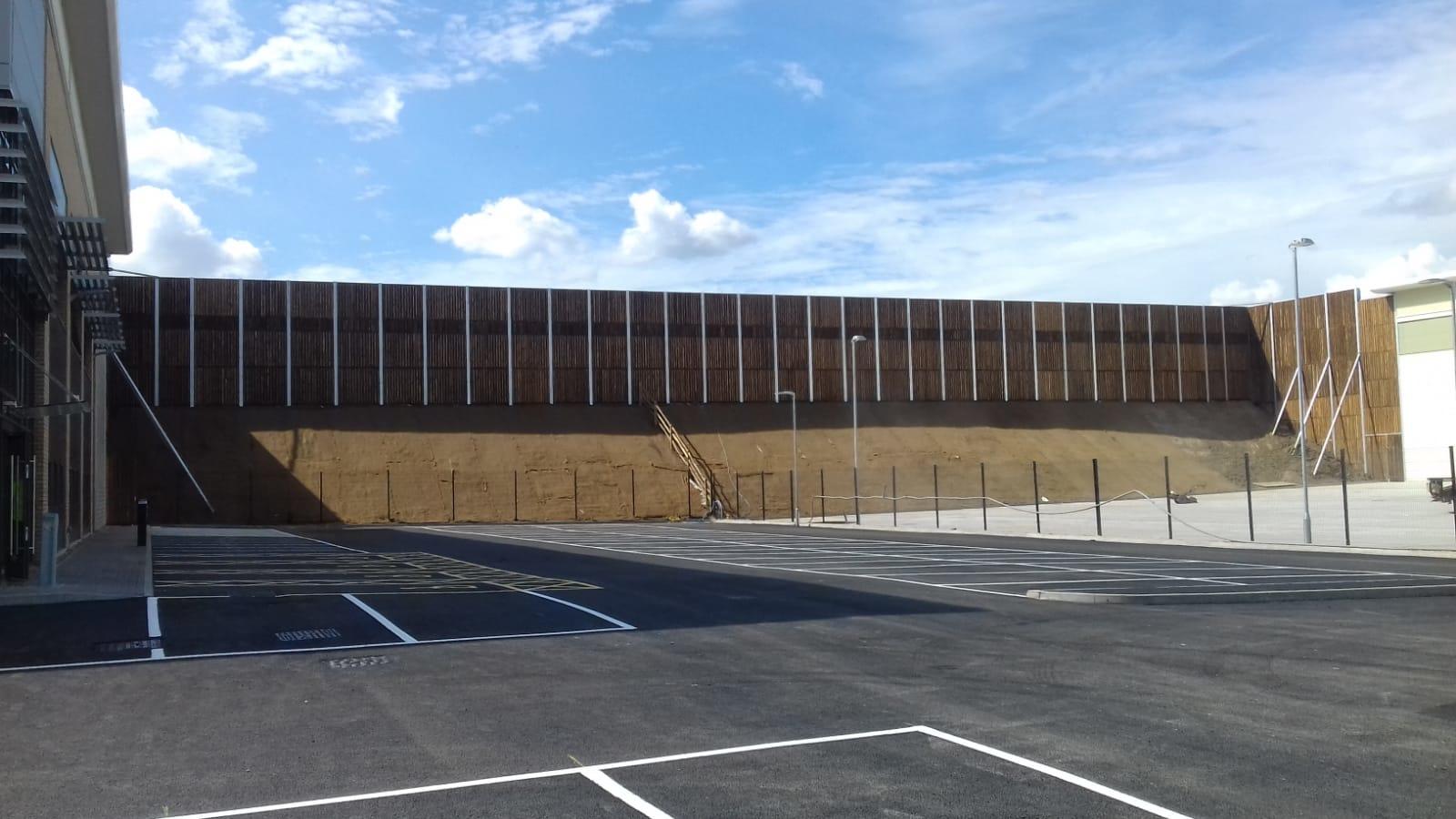 Recently, we have worked with schools to supply and install complimentary security and access solutions, a distribution centre for the UK's largest builders' merchants, and the BBC Roath Lock television studio in Cardiff that houses productions including Doctor Who and Casualty.
The project brief on this project was to create a visual and sound screening and involved the installation of 7m high acoustic screening, plus seven automated gates and pedestrian turnstiles.
"We are particularly pleased with the bespoke design and effectiveness of the acoustic barriers at the studio. We have been able to film without external noise pollution affecting filming. Great job, and looks beautiful too!"

Paul, BBC facilities director