Bicycle Shelters, Lockers & Stands
Bicycle parking solutions
Procter's cycle shelters, bike storage lockers and stands are a range of bike storage designs that allow cyclists to park their bicycles safely, orderly and in a conveniently way. Thus increasing the popularity of cycling as a form of transport.
Cycling is a great low cost, environmentally friendly mode of transportation. Bikes are used all around the UK as part of the cycle to work scheme, cycle to school scheme and as a general recreational every-day mode of transport. Consequence of this is providing, health, social and environmental benefits for the community at large.
To encourage the long-term use of bike participation it is therefore important that high quality, well organized, secured cycle shelters are provided to employees, students, customers and the general public.
Procter Contracts Are High Quality Bicycle Shelter Suppliers & Installers
We sell a wide range of bicycle storage solutions that are available to the market. When introducing one of our many bike products to our customers we like to cross-reference our quality criteria to make sure that they are buying the right fit for them.
Stable and heavy duty
Secure against theft and vandals
Compatible to the situation
Positioned in the right place.
Stable and Heavy duty
Our Standard bike storage products are manufactured from mild steel framed with a long-lasting galvanised finish. For more bespoke shelters we can apply a durable coloured polyester powder coat on top of the galvanised metal. The design of your cycle parking product should fit in visually with its surrounds. And using high quality always makes a statement about your sites commitment to bicycle parking.
Secure against theft and vandals
All our bike lockers and cycle stands provide secure locking systems so that the front wheel and bike frame can both securely be attached to the bike parking system. Without this security feature, thieves and vandals could easily break the lock and life the bike off.
Compatible to the situation
We cater our bike parking solutions to a wide range of customers. Office bike storage would be a different specification to a primary school bicycle shelter. In this situation, the school bike storage would require special provisions to allow for smaller bike stands to allow the easy parking of children size bikes and scoopers.
In addition, covered bike shelters at any site will make cycling a much more attractive option. This is especially true for commuters and school children. So we strongly recommend covered bicycle shelters for these types of sites.
Positioned in the right place
Bicycle parking shelters should be easy to find and well signed posted. Putting bike parking close to the entrance door makes a positive statement to both staff and customers alike. And helps deter vandals and thieves. Additional lighting or CCTV may also be needed. However organic surveillance by passers-by or by being overlooked is usually the best form of bike security.
Think Procter Contracts Think Secure Bicycle Storage Shelters!
Cyclists will be grateful if the bike parking is situated as close as possible to the entrance door. Sitting a bike shed where it is overlooked, or has passers-by will greatly increase security. Using an enclosed bike compound is another addition to adding security measures to a bike-parking site. As well as being secure, the bike shelter also protects the bikes from inclement weather conditions.
Finally we strongly recommend that parked bicycle shelters, stands and lockers be kept in a well-lit area. Setting the parking site where it overlooks CCTV, as CCTV cameras can provide reassurance for the cyclists and a deterrent for would-be thieves and vandals.
If you require advice or looking for a wide range of bicycle parking solutions, CCTV or other Street furniture Enquire today or Call us on the number below to book a FREE site survey.
Key Features
Made in the UK from high quality certified British material
Interesting design features
standard or custom design
Wide range of sizes
Steel, wooden and plastic options available
Galvanised and/or powder coated metal
High quality bike security for schools, offices, residential and commerical site
Free site survey and technical consultation
Consultation, design, manufactured and installation service available
Family-owned business with over 100 years' experience
Bike shelters, racks, stands, compounds and much much more.
 CALL TODAY FOR YOUR FREE SITE SURVEY! 
Our extensive range caters for all needs, from simple bike stands and racks, through to secure lockers, cycle shelters and compounds. Both classical and contemporary styles are available and, if none of our standard bike storage and parking products meet your requirements, we can manufacture customised or bespoke designs.
Standard bike storage products are manufactured from mild steel with a long-lasting galvanised finish or we can apply a durable polyester powder coat on top of the galvanising in your choice of colour. Depending on the style of shelter or compound, weather protection is provided by UV-stabilised clear polymer sheeting, corrugated panels, treated timber or a combination of these. Most of our bike storage products are offered with ragged feet for casting-in or flanged feet for fastening to suitable surfaces.
Secure, orderly and convenient parking solutions.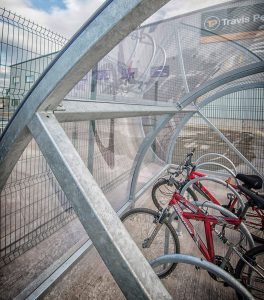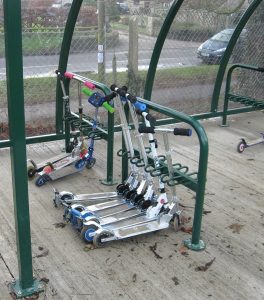 More Info
An introduction to bicycle shelters, bike lockers, cycle stands and much more.
We have over hundred years design and manufacture experience. We offer an array of hardwearing metal bicycle shelters, stands and lockers. We work with architects, contractors, civil engineers, property owners, head teachers and developers on standard and custom designed bicycle-parking solutions throughout the UK and Ireland.
Covered bicycle shelters. – We have a range of roof covered modern and traditional cycle shelters with capability to be extended to incorporate 100+ bike spaces. Idea for office and primary school sites. Two or more bike shelters can be placed facing each other to create an open compound bike facility. Which can enable up to 200 cycle spaces to be created. Great for larger office and school sites.
Bicycle compound enclosure. – Fully enclosed compounds can be provided for additional security and fully covered bike parking. Entry controls can be added and keypad or top of the range electronic entry systems. Using two bike shelters facing each other and the additional gates at either end can also be a cost effective bicycle compound.
Horizontal and vertical cycle lockers – Much needed bike security when other forms of covered storage is not possible. May be used in upright form where space is limited. Useful for positioning it in unused space such as corner of a car park or basement.
On-street Sheffield bike stands – Strongly recommended for most sites. Used as a combination with secure bicycle shelters or used separately. Sheffield stands can accommodate two bikes on one side. It is a low cost storage product to buy and install. Can be bought as individual stands or in toast racks that can be bolted down in a number of locations and can accommodate multiple bikes.
Two-tier bike racks – Used when extra capacity is needed, and space is spars. Each bike has its own rack space so will not catch on adjacent bike when being inserted/removed. Can be angled 45 degrees or more to minimise aisle width.