Safety considerations for powered gates
Powered gates that are properly designed, manufactured, installed and safeguarded are safe. But, as recent accidents have demonstrated, substandard gates can be lethal. Powered and automated sliding gates are very popular for schools because they provide excellent security, give visitors the right impression and are very cost-effective. Here are five things to consider when specifying powered sliding gates for schools:
1- Safety equipment
What is required? A suitable and sufficient risk assessment must be undertaken by the supplier to identify the hazards so that the correct safety equipment can be fitted – such as safe edges, optical sensors and physical guarding.
2- Competitive pricing
A safe gate will probably cost more than one that is dangerous, but gates that have been designed from the outset to incorporate the necessary safety features should still be very competitively priced.
3- One-day installation
Procter Automatic Gates assembles and tests its gates in the factory so that they can typically be installed and commissioned at a school in just one day (watch this short video).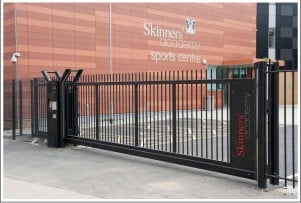 4- Get exactly what you want
We offer a range of standard tracked and cantilevered sliding gates, and we can also supply our own swing gates if these are more appropriate for your site. Any level of customisation is possible, including your school's colours, name, crest or logo.
5- Access controls
Talk to us about the level of automation you want; some schools only need simple controls to open and close the gate at the start and end of the day, while others require more sophisticated access control.
Whatever your requirements for powered and automated gates – and matching fencing if required – contact us for a free, no-obligation site survey and consultation.
Stay up to date with the latest trends and products