Safety considerations for sports ground powered gates
Powered gates offer a number of advantages for sports grounds, but it is essential that they are correctly designed, manufactured, installed and maintained if they are to be safe in use. This article highlights the top five safety considerations.
Sports grounds typically require large gates for access by vehicles, ground care machinery and crowds of supporters. While swing gates were popular in the past, today's demands for more efficient use of space mean that sliding gates are often preferred. Large gates are too heavy to be moved manually, so they need electric or hydraulic actuation. However, powerful motors or hydraulics have the potential to cause serious injuries – or even fatalities – unless the gates are equipped with adequate safety measures.
1 – Safety equipment
What is required? The supplier must undertake a suitable and sufficient risk assessment to identify the hazards so that the correct safety equipment can be fitted – such as safe edges, optical sensors and physical guarding.
2 – Access controls
What level of automation is required? Talk to us about your needs and we will help you decide what is appropriate, from automatic number plate recognition (ANPR) to keypads or intercoms, but bear in mind that safety measures and access controls must be considered together because the wrong combination can be potentially dangerous.
3 – Use a reputable supplier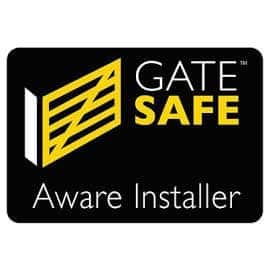 Ideally select a supplier that can also install the gate, as it is only after installation that correct operation of the safety measures can be verified – whereupon the gate can be formally CE marked in accordance with the EU Machinery Directive (yes, powered gates are classified as 'machines'). A reputable supplier/installer will be both a DHF Safety Assured Installer and a Gate Safe Aware Installer, and will ensure that the gates are built to the right British, European and International standards, as well as complying with the latest HSE guidance.
4 – Don't buy cheap gates
A low-cost powered gate is unlikely to have all of the necessary safety equipment, plus reliability may prove an issue – and you wouldn't want your gate to fail on match day. Beware that some unscrupulous installers may apply a 'CE' label to the gate but that is no guarantee that the gate has been properly designed, manufactured and installed, nor that it is safe.
5 – Safe for the future with a maintenance contract
Depending on the gate's usage pattern, it may need to be maintained every six months or possibly more frequently. During a maintenance visit, the mechanism be checked and, most importantly, all of the safety equipment will be subjected to functional testing. If the gate supplier is unwilling to offer a maintenance contract, ask yourself why not?
Whatever your requirements for a standard or bespoke powered gates – and matching fencing if required – contact us for a free, no-obligation site survey and consultation.
Stay up to date with the latest trends and products