Procter Lamp Post Protector is part of our street furniture rage
Procter Lamp Post Protector is part of our street furniture rage
​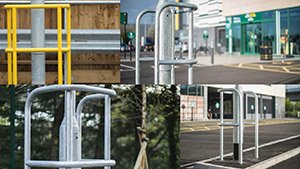 The Procter Lamp Post Protector is ideal for busy car parks. Designed originally for a major supermarket chain, this post protector will shield lamp posts and other fragile car park furniture from vehicle damage. Often used in and around car parks and vehicle entrances, simple protection is required for columns, pipes and lamp posts etc. Design and construction are usually very simple, though can, of course, takes into account the appearance of other street furniture items in the vicinity.
Manufactured from galvanised mild or stainless steel, the protector sits at a car's bumper height and is designed to withstand the knocks and bumps that will inevitably occur.
Available ragged only, these barriers can be coated in any RAL colour as required. RAL/BS codes must be specified at the time of order. We can supply and install these for you or can be sold singularly.
For more information contact our friendly team or visit our website at www.proctercontracts.co.uk
Stay up to date with the latest trends and products