Safety requirements for powered sliding gates – An essential guide for architects and specifiers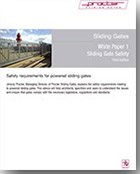 Procter Sliding Gates is offering a free White Paper: Safety requirements for powered sliding gates
Procter Contracts has published a new White Paper, Safety requirements for powered sliding gates, that provides a wealth of hints and tips.  The free guide has been written for architects and specifiers who need to be aware of the safety issues relating to automatic sliding gates.
Powered sliding gates can possess considerable momentum when in motion and, unfortunately, they have been involved in a small number of accidents – mostly resulting in injuries but there have also been fatalities.  Because they are potentially hazardous, automatic gates must be CE marked in accordance with the European Machinery Directive 2006/42/EC.  Compared with its predecessor, the new Directive that came into force on 29 December 2009 is more explicit about the duties of national government regarding enforcement.  Procter's new White Paper explains the regulatory background to powered sliding gates, as well as listing the most important British and European standards covering design, testing, installation and use.
In addition, the document highlights the mechanical, electrical, hydraulic and other hazards associated with powered sliding gates and gives examples of the measures that can be taken to eliminate these hazards or, where this is not possible, reduce them to an acceptable level.
Powered sliding gates cannot be considered to be fully assembled until they have been installed, hence they cannot be CE marked in accordance with the European Machinery (Safety) Directive 2006/42/EC until installation is complete.  The White Paper, therefore, discusses issues relating to installation and the selection of suppliers.  It also addresses the subject of maintenance, as periodic servicing is necessary to ensure that the mechanical and electrical equipment continues to give good service and, most importantly, the safety features are functioning correctly.
Safety requirements for powered sliding gates contain a wealth of useful advice. This White Paper is available free of charge on request or it can be downloaded from the Free Download section.  Alternatively, email Procter Contracts for more information about powered sliding gates or telephoning 0800 2944177.
Stay up to date with the latest trends and products