Free White Paper: How to specify sliding gates – a guide for architects and specifiers
Procter Contracts has published a new White Paper, How to specify sliding gates – a guide for architects and specifiers, that guides readers through the complex process of specifying sliding gates. The free White Paper will help architects and specifiers to ensure that the gates perform as intended, are safe to use and are economical to purchase and maintain.
Sliding gates, particularly powered and automated types, are becoming increasingly popular due to their security, space-efficiency and the wide variety of styles and infills available. Today sliding gates can be found in applications as diverse as houses, schools, hospitals, factories, warehouses, public utilities, airports, docks and ports, police stations and military bases. However specifying sliding gates is not as straightforward as might be imagined, with many different factors to consider if costly pitfalls are to be avoided.
The White Paper starts by encouraging readers to consider whether sliding gates are, indeed, right for the project in questions. Unbiased advice is provided, together with a helpful table of the advantages and disadvantages of sliding gates and hinged gates.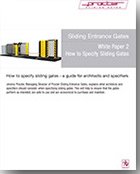 How to specify sliding gates
One of the key factors behind the installation of gates is security, so this is discussed within the White Paper. The next consideration when specifying gates is the size and layout, so this topic is also covered in some detail. Sliding gates fall within one of two categories: tracked or cantilevered. Both types offer advantages for some applications, but both also have their drawbacks. The White Paper addresses this subject and tabulates the advantages and disadvantages of tracked and cantilevered sliding gates.
As well as the areas touched on so far, architects and specifiers also need to consider the aesthetics and safety aspects relating to sliding gates. Both of these subjects are discussed at length, with the White Paper providing a wealth of information about the options available and also the legislative background to gate safety. This is particularly important if the gates are powered – which most sliding gates are today. Furthermore, the White Paper also contains a section devoted to automation and access control.
Clearly, it is important to specify sliding gates correctly, but the White Paper also points out that installation and maintenance need to be taken into account at an early stage in the project. Once again, the advice provided could prove invaluable in the long run.
How to specify sliding gates – a guide for architects and specifiers is written by Jeremy Procter, the Managing Director of Procter Sliding Gates, who has decades of experience in the design, manufacture and installation of virtually every type of gate and fencing. The White Paper is available free of charge on request or it can be downloaded from Sliding Gates free download section. Alternatively, email Procter Sliding Gates or telephone 0800 2944177.
Stay up to date with the latest trends and products