DHF Safety Assured Gate Supplier Procter is Among First To Be Accredited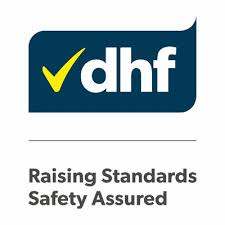 Procter Contracts is among the first automatic gate suppliers to achieve Safety Assured accreditation by completing the comprehensive training programme provided in support of the Guide to gate safety legislation and standards developed by the Powered Gate Group of the Door & Hardware Federation (DHF).  Jeremy Procter, the Managing Director of Procter Sliding Gates and Deputy Chairman of the DHF Powered Gate Group, comments:"We are fully committed to raising the standard of safety for automatic gates and to supplying our own range of power operated gates that are fully compliant with the detailed guidance contained in the DHF Guide to gate safety.  I am very pleased that we are one of the first companies to have been accredited as a Safety Assured gate supplier."
The DHF guide to powered gate safety was developed with the backing of the Health and Safety Executive (HSE) and following consultation with major equipment suppliers and leading installers.  It has now been adopted as best practice technical guidance within the automatic gate industry.  Providing a summary of the principal issues, as well as detailed guidance, free publication is providing to be a valuable resource for people needing more information about the safety of powered gates.
A key factor behind the publication of the guide was a number of recent fatal accidents involving powered automatic gates.  Procter Sliding Gates is a member of the Powered Gate Group of the Door and `hardware Federation, and the company has been actively involved in drafting the Guide to gate safety and developing the thorough Safety Assured gate supplier training programme; naturally, Procter Sliding Gates is committed to providing fully compliant, Safety Assured automatic gates, and to promoting the Guide to gate safety and the Safety Assured accreditation scheme.
Andy Holz, chairman of the DFH Powered Gate Group, states:"The DHF has extensive experience of setting safety standards for automated doors in other industry sectors, such as powered garage doors.  Much of that technical expertise is transferable to the powered gate sector."
Nick Ratty, the head of the HSE's services, transport and safety unit, says:"The Health and Safety Executive was consulted in the production of this publication and endorses the sensible advice to installers on managing the risks from powered gates set out in the guidance."
Follow the link to download a copy of the DHF Guide to gate safety legislation and standards.  Alternatively, telephone 0800 2944177 or email [email protected] to request a copy or to inquire about powered gates.
Stay up to date with the latest trends and products