Stainless steel handrails with exceptional corrosion resistance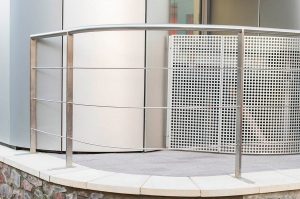 Procter Contracts is now supplying bespoke stainless steel handrails that benefit from exceptional corrosion resistance thanks to the use of electropolishing that ensures the handrails continue to look good for far longer than handrails that have not received this treatment.
Suitable for use indoors and outdoors, stainless steel handrails have a clean, contemporary, high-quality appearance and, most importantly, they need virtually no maintenance in order to maintain their appearance over many years. Sometimes architects shy away from specifying stainless steel handrails for exterior applications, particularly in marine environments, because they are afraid that 'tea-staining' and minor surface corrosion will detract from the good appearance. However, Procter's handrails benefit from passivation or, more usually for exterior projects, electropolishing to ensure the handrails will remain entirely corrosion-free.
Passivation involves a relatively simple chemical process that is used after manufacturing processes such as welding or grinding. Carried out in accordance with the requirements laid down in ASTM A967, Standard Specification for Chemical Passivation Treatments for Stainless Steel Parts, the process restores the protective oxide layer to the stainless steel surface without adversely altering the appearance. Passivating is highly effective for indoor applications but is not as effective outdoors.
For corrosion protection that is up to 30 times better than that available from other processes, electropolishing removes a very small amount of surface material by means of electrolysis, with the process undertaken in line with the requirements in ISO 15730, Metallic and other inorganic coatings – Electropolishing as a means of smoothing and passivating stainless steel. Electropolished handrails are typically specified for outdoor applications and are highly recommended for use in marine environments where salt spray would quickly overcome the protection provided by passivation. Although electropolishing makes the stainless steel appear somewhat brighter, this can be controlled by managing the process parameters without impacting on the metallurgical benefits. Procter Fencing Systems is so confident that its electropolished stainless steel handrails will remain rust-free that it offers a three-year anti-corrosion warranty.
The finishing process is a major influence on the corrosion-resistance of the handrail, but so is the grade of stainless steel. While 304 and 316 grades are suitable for interior applications, only 316 grade is recommended for external applications due to this alloy's molybdenum content that gives superior resistance to chemical attack and oxidation. Handrails made of 304 and 316 grades will look identical; if customers want a variation in the appearance, they can specify either a satin polished (320 grit) finish or mirror polished finish.
To complement the corrosion-resistant stainless steel handrails – and to ensure that corrosion does not take hold elsewhere – all fittings and fasteners are manufactured from either 304 or 316-grade stainless steel. Vandal-resistance fasteners can be specified and, if necessary, features can be incorporated within the design to cater for mounting points on floors and walls that are not perfectly aligned or flat.
Architects can have a free hand in designing stainless steel handrails, though it should be noted that stainless steel tubing is only available commercially in the following diameters: 12, 25, 32, 42, 50, 60 and 76mm, with 42, 48 and 50mm being the most popular for handrails.  Wall thicknesses are 2.0, 2.3, 2.6 or 3.0mm.  Alternatively, handrails can be manufactured from the bar rather than the tube, which a further range of standard sizes from which to choose.  Stainless steel stanchions can be fabricated to almost design imaginable.
Where handrails are to double as balustrading, various infills can be used including perforated stainless steel sheet, glass or stainless steel bars.  Architects can discuss their requirements with one of Procter's experts to ensure that the final design is cost-effective and maintenance-free (or very low-maintenance).  Depending on the project, handrails can incorporate sharp bends, sweeping curves and complex curves – such as for handrails on spiral staircases.
In addition to stainless steel passivated and electropolished handrails, Procter Contracts can also supply complementary bespoke stainless steel products ranging from gates and barriers to cycle stands and seating.
For stainless steel handrails – and complementary stainless steel products – Procter Fencing Systems provides whatever level of service is appropriate to the project. If architects already have drawings available then these can be used to manufacture products that are delivered to site ready for a contractor to install. However, if a more comprehensive service is required, Procter can conduct a site survey, consult with the client and provide a detailed proposal, then undertake the design, manufacture and installation. Delivery times depend on various factors including the complexity of the design, but typically handrails can be manufactured and delivered within four weeks.
Thanks to the use of electropolishing, the corrosion-resistant stainless steel handrails from Procter Fencing Systems offer a major benefit over competitive products from other suppliers. To ensure the quality is never compromised, stainless steel components are processed using dedicated equipment to avoid cross-contamination with other grades of steel, and care is taken to ensure that the stainless steel components never come into contact with other steels. All welding is performed using the TIG (tungsten inert gas) process to give a high-quality weld that requires minimal finishing; thermal oxides that form around the weld's heat-affected zone are removed by dissolution prior to passivation or electropolishing. Testing with copper sulphate solution detects any free iron on the surface of the finished product, and this test is more practical than the standard 96-hour salt spray test conducted in a sample cabinet. Prior to dispatch, all stainless steel components are covered with sleeving or bubble wrap to protect them during transport and site handling.
Stainless steel handrails from Procter Fencing Systems are very competitively priced. Moreover, if customers specify the electropolished finish, the stain resistance is far superior and the handrails are entirely maintenance-free. Almost any design can be fabricated and, if required, Procter offers a complete turnkey service from site survey to installation.
Follow the link to find out more about stainless steel handrails and complementary products or contact us to discuss specific projects.
Stay up to date with the latest trends and products