Safe installation and maintenance of powered gates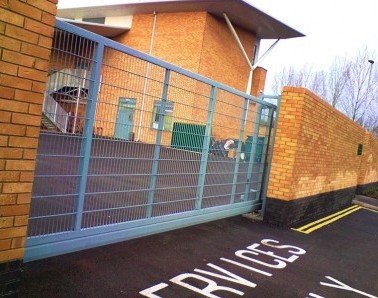 Following a recent fatal accident and subsequent prosecutions, we are raising awareness of the importance of powered/automatic gate safety, both in terms of correct installation and ongoing maintenance.
In 2013 a woman died after a powered gate fell on her when she opened it manually. The gate fell because safety components had not been fitted when the gate was installed. At a trial in 2016, the installer was found guilty of breaching general duty of care in his work, but the jury failed to reach a verdict on a charge of gross negligence manslaughter. However, following a retrial, in October 2017 the jury returned a guilty verdict and the installer was given a 42-month prison sentence and his employer fined £12,000. At a previous hearing, the company had additionally admitted three counts of failing to comply with a requirement under the Supply of Machinery (Safety) Regulations.
Powered gates are machines as defined by the Supply of Machinery (Safety) Regulations, which is the UK implementation of the European Machinery Directive 2006/42/EC. In order to be safe, the gates should meet certain Essential Health and Safety Requirements; this is normally achieved by complying with relevant standards and guidelines during the design, manufacture and installation. There are also particular requirements relating to documentation, including risk assessments and operating instructions. Once the gate has been installed and commissioned satisfactorily, the CE mark must be applied to indicate its compliance with the Supply of Machinery (Safety) Regulations.
There is no 'CE police' monitoring the design, manufacture, installation and CE marking of powered gates, as the work is self-certified. However, individuals and organisations purchasing powered and automated gates can have confidence in their supplier if they select one that has third-party accreditation under either the Door & Hardware Federation (DHF) Safety Assured scheme or the Gate Safe scheme, both of which are recognised by the Health and Safety Executive (HSE).
As with any machine, a powered gate must be maintained properly if it is to continue to perform as intended. Most importantly, the safety equipment must be checked by a competent person to ensure it is still operating correctly; this might include optical sensors, pressure-sensitive edges, sensors for measuring motor torque, and the control system that monitors the sensors and controls the motor(s). Depending on the usage pattern, mode(s) of operation and the level of disruption that would result from an in-service breakdown, powered gates should be serviced at least once every six months.
We have published a series of guides and white papers addressing various aspects of gate safety. We have produced a Risk Assessment Calculator for use with sliding and telescopic gates. All of these can be downloaded free of charge from this website.
We are a dhf Safety Assured and Gate Safe accredited installer. We also offer maintenance contracts on our own gates and those installed by other suppliers (subject to an initial survey).
For more information please contact us via email [email protected] or complete our contact us enquiry form here.
>> Safety for sportsground powered gates
>> All Procter Contracts News
Stay up to date with the latest trends and products