New office in South West England
Procter Contracts opens new office to serve clients in South West England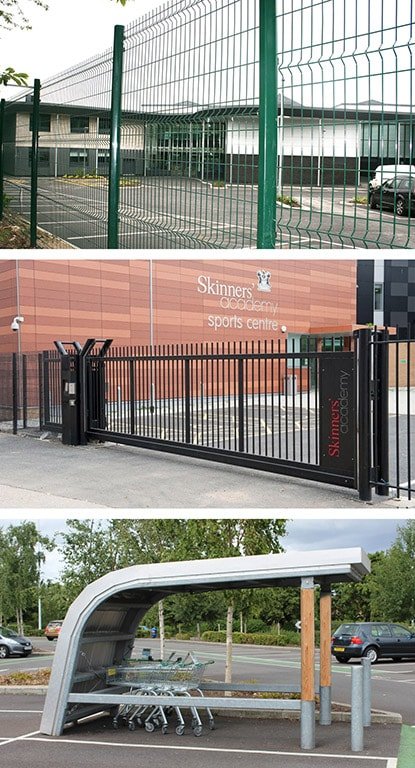 Procter Contracts' new office provides a one-stop-shop for the supply and installation of fencing, automatic gates and street furniture for clients in the South West. Procter Contracts has opened a new office in Weston-super-Mare, North Somerset to serve its growing client base in South West England.
Architects and main contractors working on projects in the South West can now single-source fencing, railings, automatic gates and street furniture from a regional supplier. Of course, if only one or two of these product types are required, Procter Contracts offers a comprehensive design, supply and installation service for whatever is required.
The last two years have seen an unprecedented growth in business in the South West for Procter Contracts through a combination of loyal existing clients and new ones. Recent contracts have been completed for major construction groups such as Costain, Kier, Morgan Sindall, Willmott Dixon and Midas. Projects have included the supply and installation of standard and bespoke products for a park-and-ride scheme, the Avonmouth Concrete Plant, multi-storey car parks and various education projects.
Procter Contracts' new office is at The Hive Business Centre in Weston-super-Mare. Steve Spaven, the Senior Business Development Manager, is leading the operation, with Lee Harvey and a team of local staff supporting clients and handling new enquiries. If required, technical and logistical backup is available from Procter's design, manufacturing and installation teams located in Bedwas (South Wales), Garforth (Yorkshire) and Brentwood (Essex).
Jeremy Procter, Chairman of the Procter Bros Group, comments: "I am delighted that the new office is already thriving, with a growing base of satisfied clients and a wealth of new projects in the pipeline. Previously we have served the South West from our other bases, but having a dedicated office in the South West is proving highly beneficial to our clients in that region."
Procter Contracts is a business unit within Procter Bros Ltd, which can trace its roots back to 1740. The three areas in which Procter Contracts specialises are fencing, automatic gates and street furniture. As well as offering a range of standard products, Procter Contracts has the design and manufacturing capability to create bespoke products. With all projects, the priorities are quality and customer service.
To find out more about the products and services available from Procter Contracts, contact Procter Contracts to discuss specific projects by emailing [email protected] or telephoning 0800 2944177.
Stay up to date with the latest trends and products