The Architects' Guide to Fencing
Fencing serves a variety of purposes, including marking the boundary of a property, providing a feature 'frame' around a property, preventing intruders from entering and, in some circumstances, ensuring that persons cannot leave the premises without authorisation.  In all cases, however, fencing is readily visible, hence there is a need to consider aesthetics as much as other requirements.  While there is sometimes a tradeoff between aesthetics, security and durability, fencing that has been carefully designed and specified can enhance the aesthetics and provide the necessary security and durability.
Almost all premises will benefit from fencing, including individual and shared residential properties, commercial premises, retail parks, schools, hospitals, sports grounds and playgrounds.  Clearly, the needs will be different from one project to the next, so it is strongly recommended that each project is discussed with a reputable supplier that offers the full range of options to ensure that the optimum type is chosen and the detailed features are specified correctly.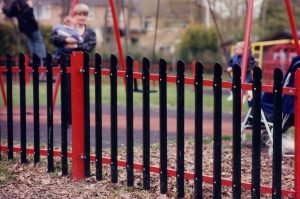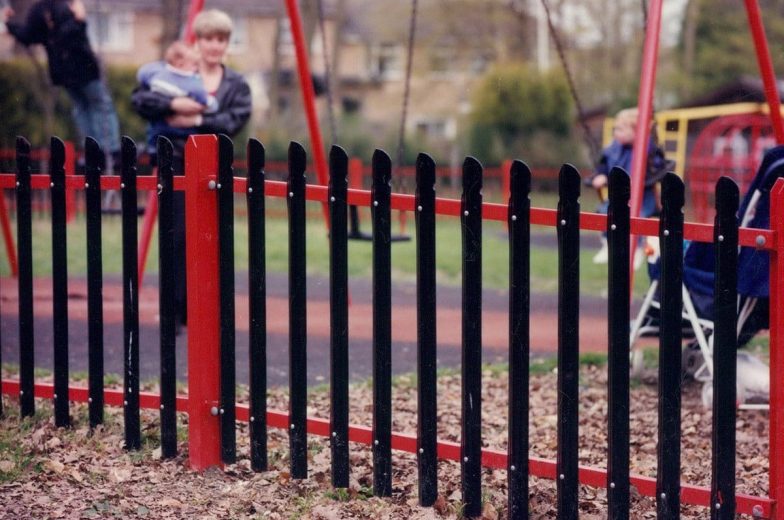 Architects have a broad choice of fencing types from which to choose, ranging from the utilitarian to the ornate.  Selecting the optimum type for a particular project is sometimes straightforward, but often the choice is not clear cut.  the following descriptions will aid the decision-making process, but architects are welcome to contact Procter Fencing Systems and arrange a site meeting at which the options for standard and customised products can be discussed in more detail, taking into account the project requirements.  In addition, there are dozens of Fencing images available in our Fencing Gallery.
Chain link fencing has been popular for decades due to its low cost and versatility; it is available in a range of strengths and finishes – including galvanised and plastic coated options – and is easily adapted to uneven ground.  In addition, it can be mounted on steel or concrete posts with or without additional security features such as extensions for barbed wire.  However, chain link fencing is generally considered to be utilitarian and unattractive, hence it is really only suitable for low-security applications where boundary demarcation is the main purpose.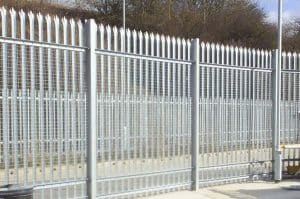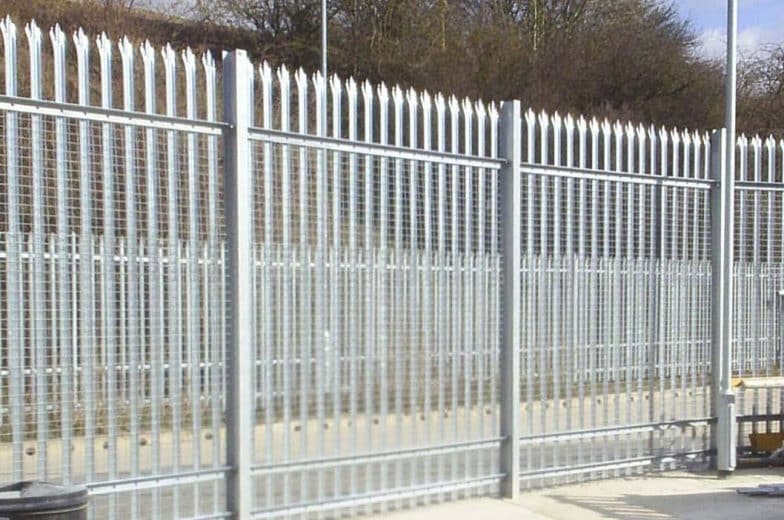 Palisade fencing has been widely used since the 1980s; it typically takes around twice as long to cut through as chain link, though climb-resistance is seldom much better.  Different thicknesses and profiles are available, and polyester powder coatings on top of galvanising can provide an attractive, long-lasting finish.  Palisade is available with the ends of the pales formed into a variety of shapes, from round-topped to a single point or splayed multi-point forms.  Overall security is only marginally improved compared with chain link; removal of the pales on standard palisade can be worryingly easy, though high-security versions are available.
Railings sometimes referred to as vertical bar fencing, are similar in concept to palisade fencing but less visually obtrusive due to their less industrial appearance.  There is normally a choice of top finals for the vertical rails, with decorative heads making the fencing highly ornamental.  For a contemporary appearance, square-section pales can be set at 45 degrees to give an aesthetically attractive yet robust and secure barrier.  A more traditional appearance is provided by bow top railings, which can be hooped or hooped and overlapped/interlocked (park style).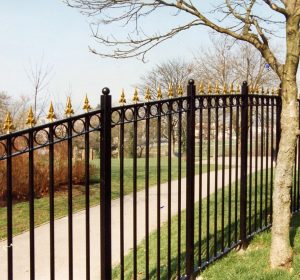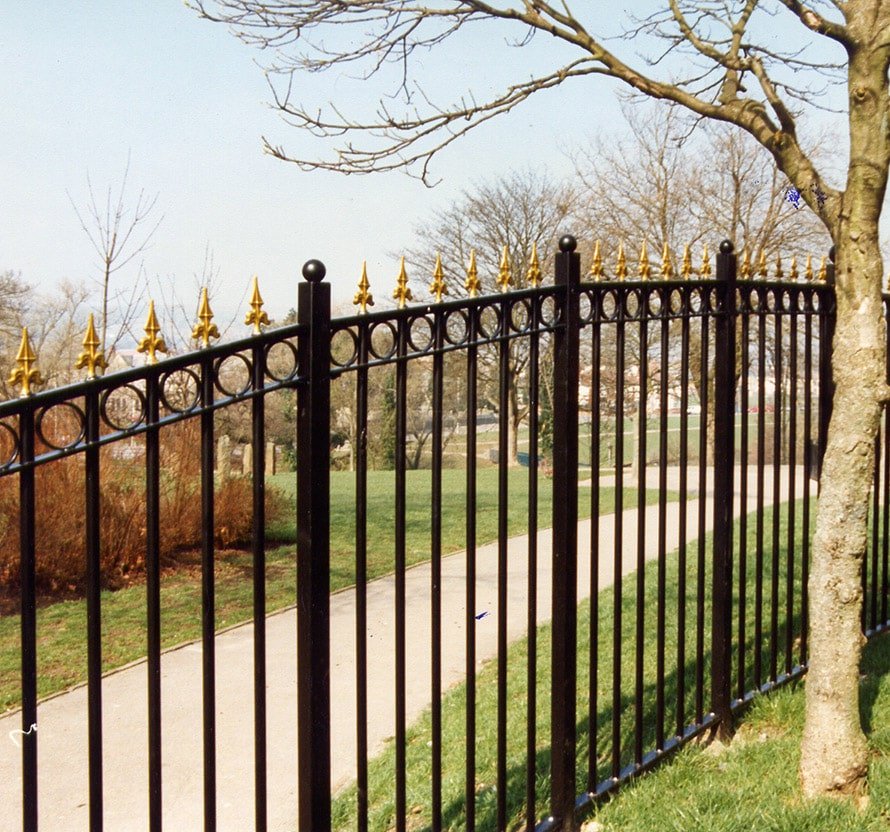 Purchase and installation costs, however, tend to be slightly higher for railings than for comparable palisade fencing due to the higher manufacturing cost, while the level of security is similar or better than that provided by palisade fencing.
One advantage with railings is that there is no limit to the decorative options and Procter Fencing Systems can work with architects to express their creativity in the design of railings that also achieve the required security level.
If railings are installed between masonry pillars, or such pillars are used for mounting gates, Procter Cast stone offers a range of pier caps and spheres in standard and bespoke sizes and colours.
Welded wire mesh (weldmesh) panels provide a more secure type of fencing in a variety of designs and a choice of finishes.  Different mesh aperture sizes and wire diameters are available to suit the security and aesthetic requirements, and profiled panels benefit from higher rigidity.  Mesh panel fencing is normally galvanised to provide a long-lasting finish, and polyester powder coating can be used on top of the galvanising to add colour.  As well as a range of standard RAL colours, mesh panels and posts can also be finished in the architect's choice of colour(s).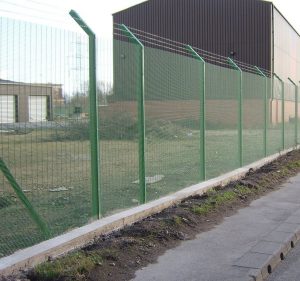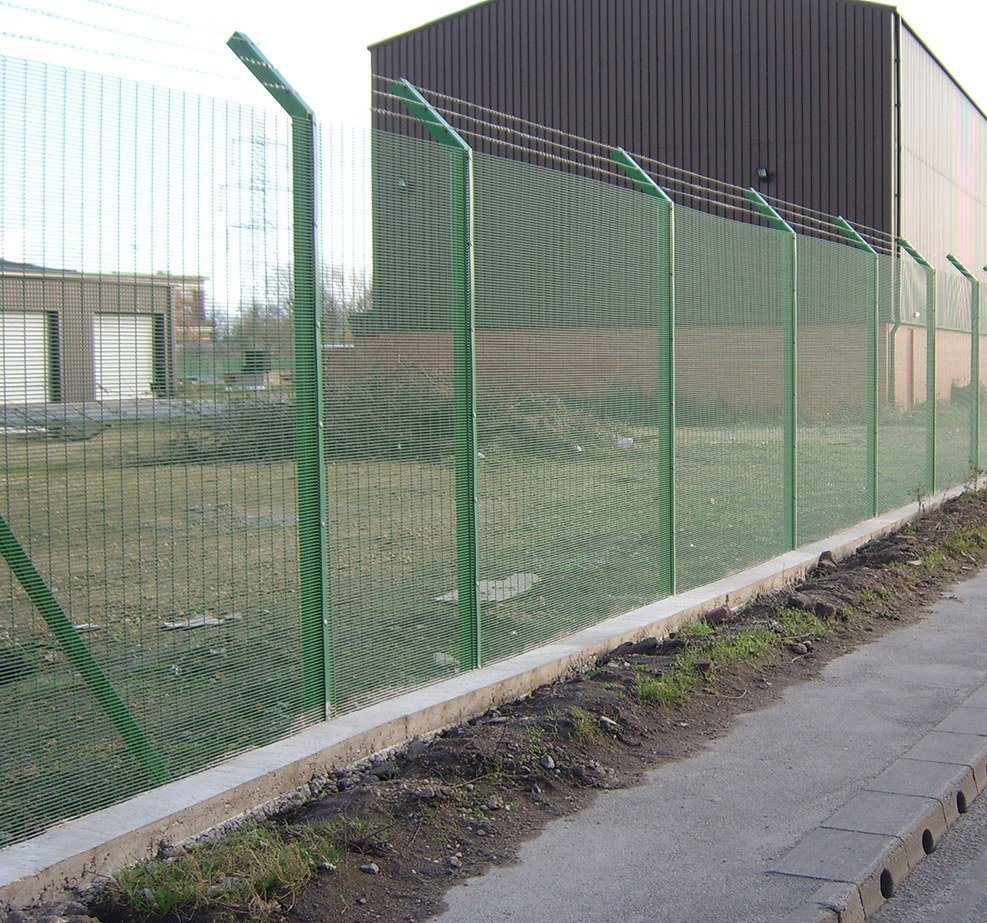 Welded mesh panels take many times longer to cut through than most alternatives and can be significantly harder to scale due to the lack of handholds and footholds presented by the small mesh sizes.  Although the top of the weldmesh panel can provide only limited anti-climb features (a short vertical wire), toppings can be mounted on the supporting posts to increase security.  High-security mesh panel fencing usually offers the highest level of security, especially if used in conjunction with complementary security measures.
Timber fencing is manufactured in a wide variety of standard designs or to the architect's own design – in which case appearance and security can be tailored.  Close board timber fencing is probably the most commonly used type where boundary demarcation and privacy are required, or timber knee rail is popular as a low-cost means of marking boundaries or discouraging pedestrians from straying onto roadways.  Log walling is a further option, with the height range of 500mm to 3000mm making this type very versatile for applications such as schools, play areas and parks.
Acoustic fencing features solid timber boards, 25mm thick, that are fixed to timber rails and connected to galvanised steel posts.  This design ensures that there are no sound gaps, hence noise attenuation is assured.
Gates and Barriers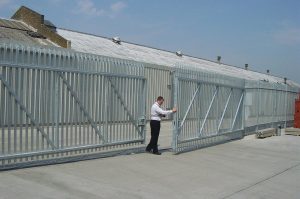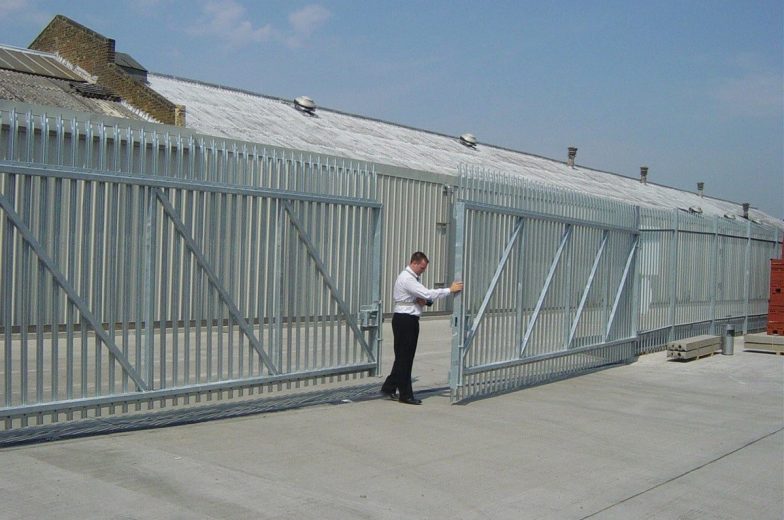 Whenever a perimeter fence is installed there needs to be at least one access point for vehicles and/or pedestrians.  If security is one of the reasons for installing fencing then it is important to ensure that the gates' design and specification provide the same level of security as the fencing.  While the size will depend on the type of access required (individuals, groups of people, or single or multiple vehicles), it is best practice to keep the access points as small in size and number as reasonably possible to avoid compromising security.  Whatever type of gate or access is used, care must be taken to ensure that it is not vulnerable in comparison with the remainder of the perimeter security.  For example, gates should be located where they are clearly visible.
Hinged and sliding gates, both manually operated and powered, are usually available from the fencing supplier to complement the specified type and design of fencing.  For schools or commercial properties, a crest, logo or name can be incorporated within the design.   Prestigious residential developments can benefit from ornate gates featuring traditional or contemporary design elements – yet these can also provide security.
Where sliding gates are preferred, perhaps due to limited space being available to accommodate open hinged gates, there is a choice of tracked and cantilevered gates.  Sliding gates can, therefore, suit very wide entrances – up to 28m for double-leaf tracked gates or 15m for double-leaf cantilevered gates.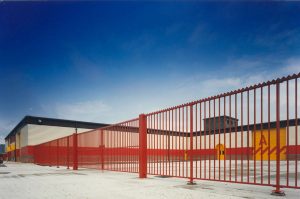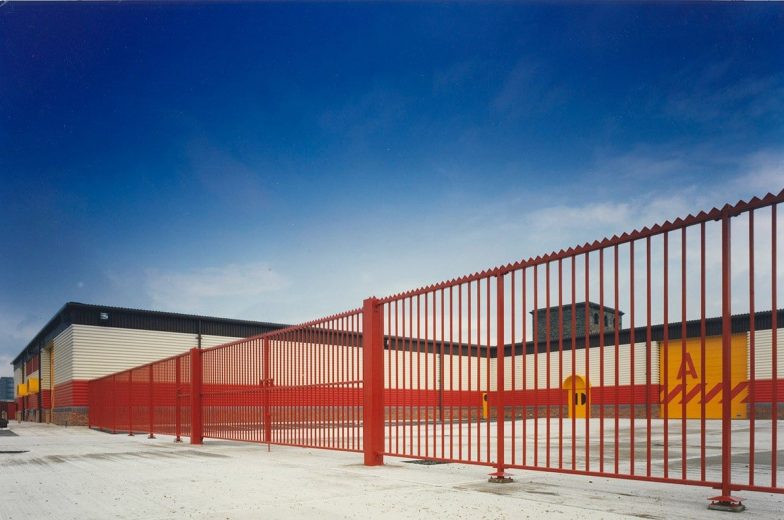 Depending on the project requirements, it may also be appropriate to install barriers, either of the swinging or lifting types, which can be manually operated, powered or automatic.
Gates and barriers – as well as bollards and other steelwork – can be designed and manufactured to match the fencing, thereby presenting a unified and visually pleasing overall appearance.
When considering gates and barriers, remember that the question of access controls should be addressed at the same time.
Complimentary Security Measures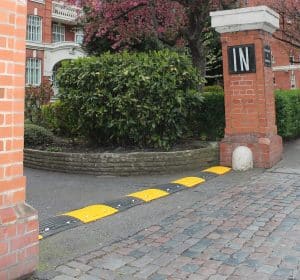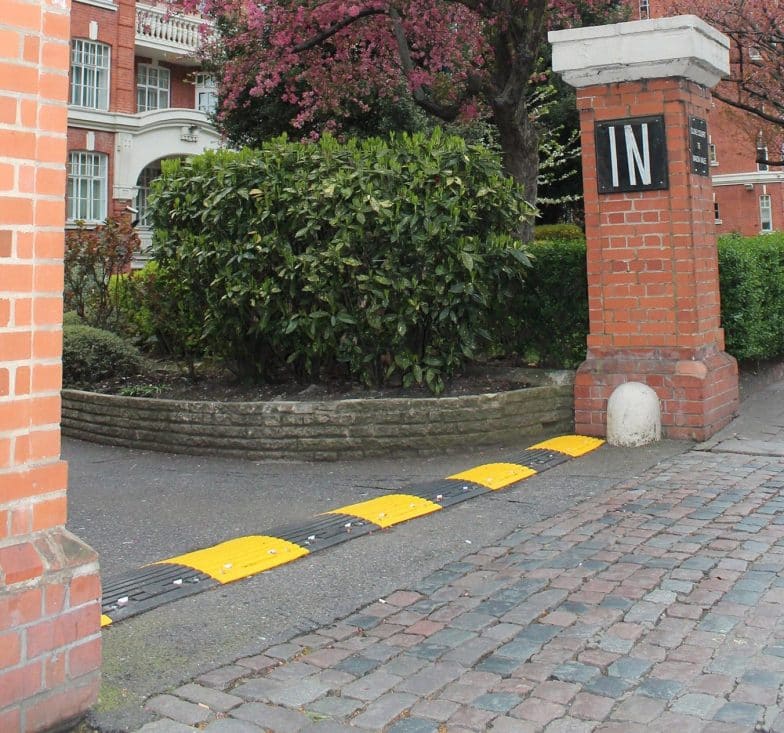 Access control is vital in order to keep unwanted visitors out, prevent unauthorised egress (eg in schools) or to discourage theft by people with authorised access.  Depending on the technology employed, the level of control can vary enormously.  For example, particular personnel may be permitted access through defined access points and at predetermined times.  Maximum security is provided by state-of-the-art technologies such as fingerprint readers or iris recognition.
---
When considering the type of access control to use, bear in mind:
Level of security required
Number of areas and points to control – especially if more than one site is involved
Site layout
Employee numbers (and turnover)
Visitor numbers
Likely future growth
Disabled access
How the system will be managed internally
---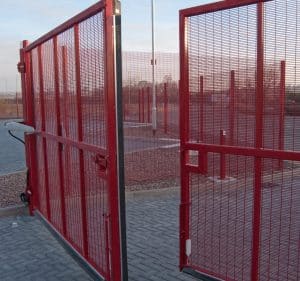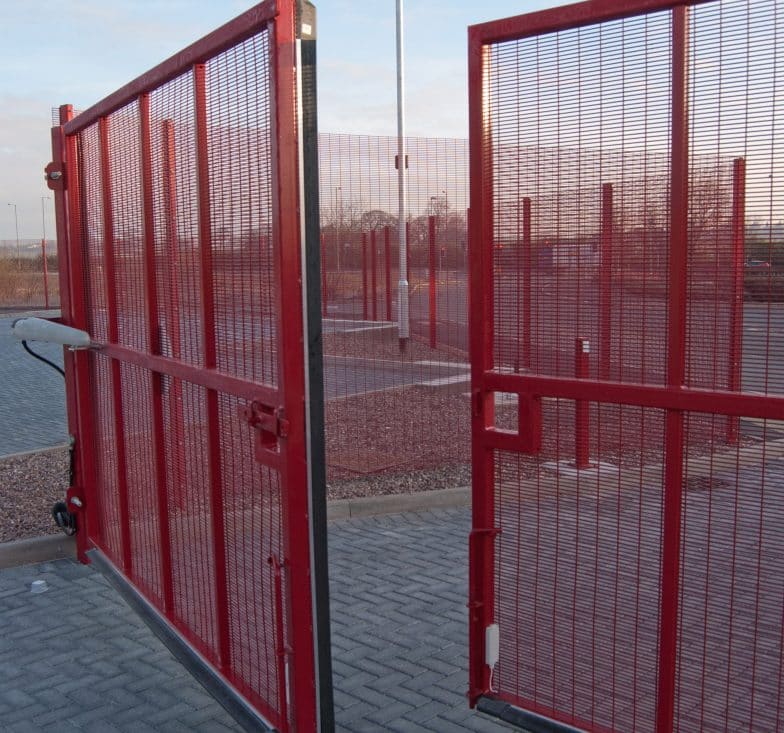 Powered swing gates can be controlled via time clocks and security staff, while automatic barriers can be operated using proximity readers, mechanical keys and swipe cards.  Reception intercoms are useful for visitor entry/exit, and induction loops and infrared overrides can provide additional safety.
The range of access control options is huge, so it is best to discuss the application with Procter Fencing Systems at an early stage.
Fence extensions are effective at enhancing the anti-climb properties of fences.  Three or more rows of barbed wire or tape can be installed, though beware of the need to comply with local planning restrictions in this respect.
Rotating toppings are, as with barbed wire, both a deterrent and effective at preventing climbing by most intruders.  Either one or two rows of rotating anti-climb spikes can be installed on fences, plus the same can be installed on walls and buildings so that there are no breaks in the perimeter security.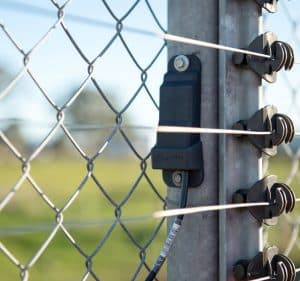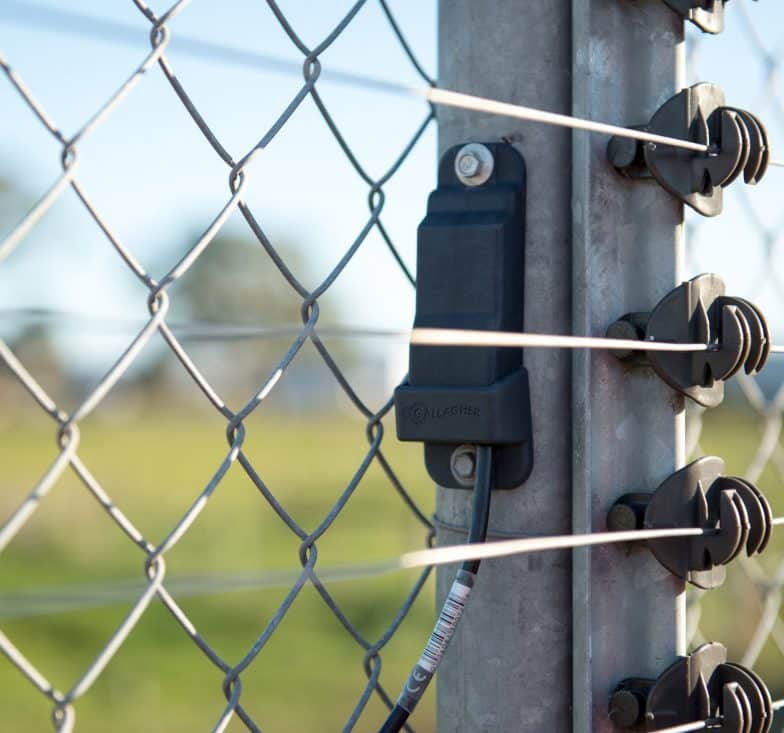 Fence-mounted intruder detection systems incorporated a sensor cable within the structure being protected.  Audible signals and vibrations generated during an attack are transmitted to an analyser unit for detecting penetration, cutting, climbing or attempts to sabotage the system.
Electrified perimeter security systems use a measured electronic pulse as a deterrent and to enable attacks on the fence to be detected, thereby increasing the overall security of the fencing considerably.
CCTV and other electronic surveillance systems can provide additional security, depending on the application.  Note that CCTV is best used in conjunction with an 'open' type of fencing – such as welded mesh panels – rather than palisade or similar types that can hinder visibility.  Other electronic surveillance systems include acoustic and radar cables, infrared detection and virtual fences.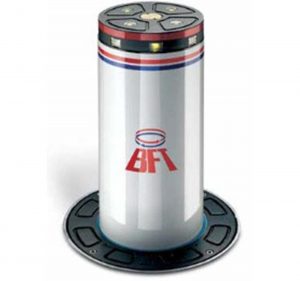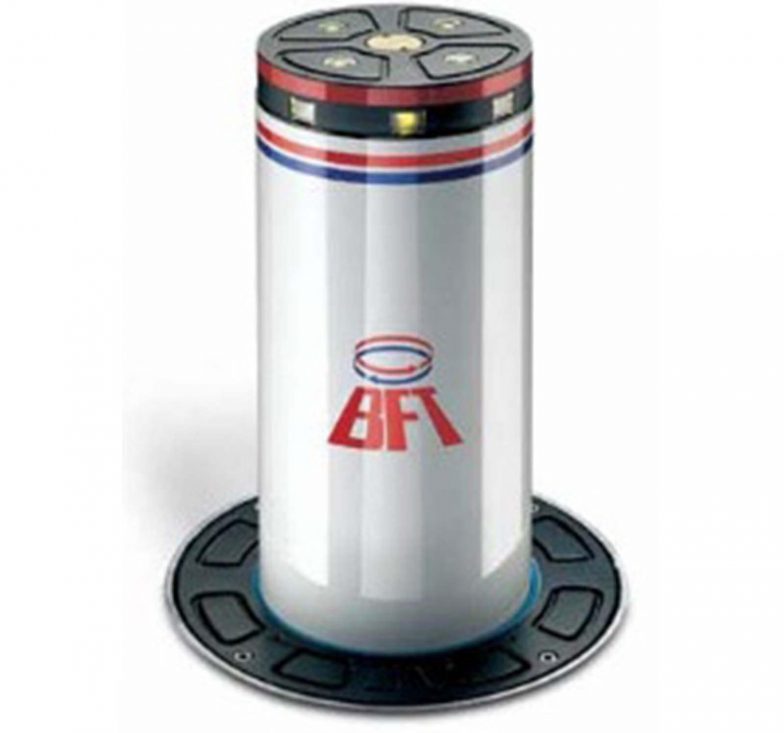 Bollards and fixed barriers are useful in areas where fencing or gates are impractical yet there is a need to prevent vehicular access while allowing free movement of pedestrians.  Lifting bollards can be used where occasional, controlled vehicular access is required.  A wide variety of bollard types and styles is available to suit different aesthetic and security requirements.
Selecting and Specifying Fencing
From the above, it can be seen that there is a wide variety of fencing types from which to choose, though it is also necessary to take into account any other security measures before the final decision is made.  It might be felt that there is a trade-off to be made between security, durability and aesthetics, but an acceptable balance should always be achievable, perhaps by means of additional measures to enhance the security of a fence that might not provide adequate security on its own.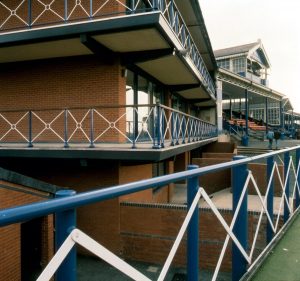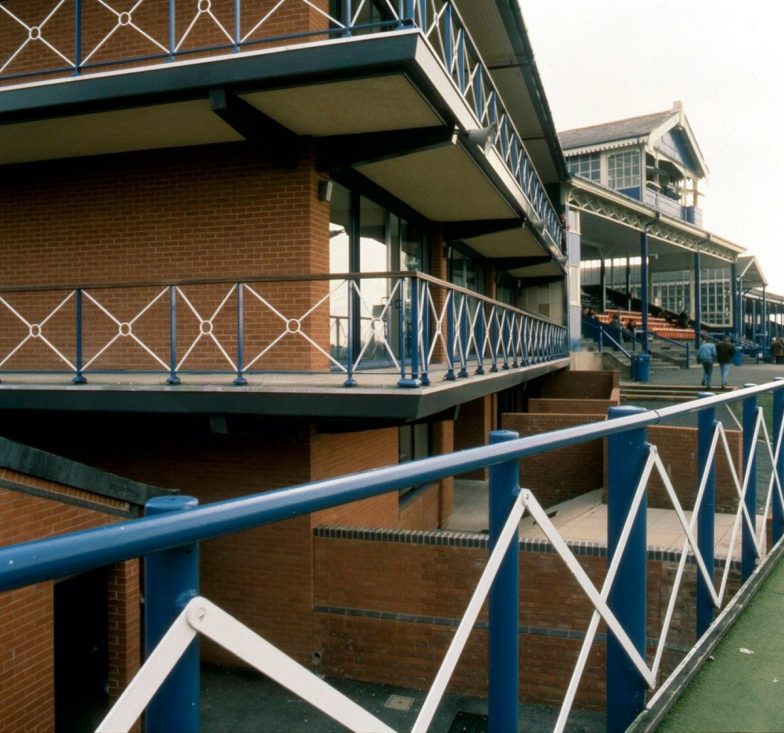 Most steel fence types are available with a durable hot dip galvanised and coloured powder-coated finish.  Fencing suppliers normally have one or more standard colours, but custom colours can usually be specified as an extra-cost option.  The combination of galvanising and powder coating gives excellent long-term protection with little or no maintenance required.
Other things to consider when selecting and specifying fencing include the need to use fencing and materials that comply with British or European Standards, the selection of a good quality and reliable supplier, and the question of who will install the fencing.
Supply and Installation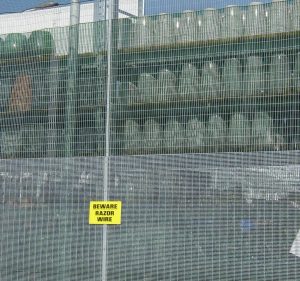 As well as selecting the right type of fencing and complementary security measures, it is vital to choose a supplier that will ensure the fencing is manufactured to the correct specification and delivered on time.  In addition, it is highly recommended that the fencing is installed by the supplier's own skilled installation teams in accordance with a quality assurance scheme accredited to BS EN ISO 9001:2008.
A fence is only as good as its installation.  Poorly installed fencing detracts from the appearance of the premises, and everybody knows how important first impressions are.  An invited visitor to the site may see the poor fence as a reflection of the company's own standards, and a potential intruder may look upon poorly installed fencing as a sign that the company pays little attention to security.
Furthermore, poorly installed fencing may be easier to breach in some cases, and it will be more likely to need repairs and maintenance earlier than would otherwise be necessary.  In the worst case, an insurer may contest a claim if the security fencing is deemed to be unsatisfactory.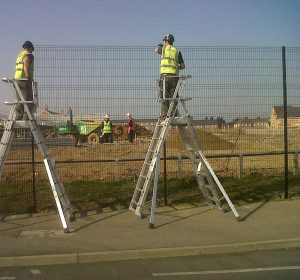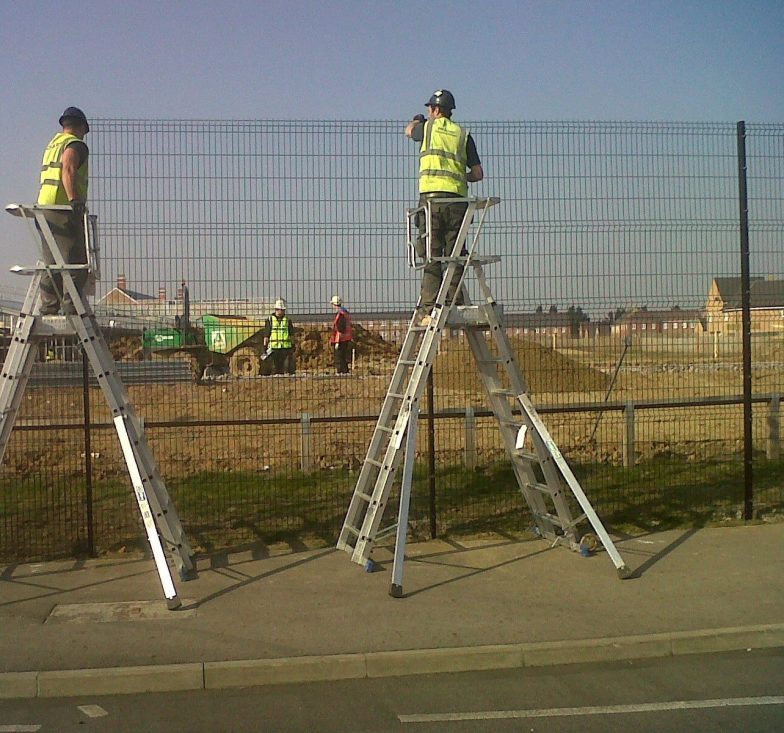 Installing fencing is a skilled job and specifiers should be aware that some fencing contractors hire unskilled labour on a project-by-project basis, rather than retaining a team of properly trained installers.
Procter Fencing Contracts is one of the UK's leading specialist manufacturers of fencing and gates.  From its sites in Leeds, South Wales and Brentwood, Procter Fencing Systems offers a comprehensive service to survey, design, manufacture and install fencing and gates nationwide.  All products are designed in accordance with the requirements of BS EN ISO 9001:2008 and all meet the appropriate health, safety and product standards.  Installation is carried out by the company's own teams of skilled installers.
Because Procter Fencing Contracts has its own design and manufacturing facilities, the company can readily work to architects' design for custom fencing and gates.  Furthermore, the company is able to maintain strict controls over the workmanship and scheduling.  Procter Fencing Systems is therefore ideally placed to interpret architects' designs to create attractive, secure perimeter fencing.
PDF drawings of standard products are available download directly from the company's website, and CAD drawings of special projects can be supplied following order placement.
As well as the photographic gallery and PDF drawing downloads mentioned above, the Procter Fencing systems website also has brochures, product data sheets and project datasheets that can be freely downloaded.  These provide a wealth of information to help architects and their clients make decisions about which type of fencing to use.
For every project, Procter Contracts appoints a Contract Manager to ensure that all aspects of the project meet the client's requirements, from design and specification, through to quality and delivery schedules.